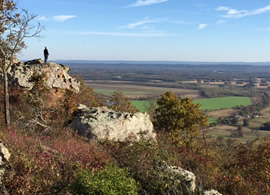 Hot Spots/Destinations in Arkansas
The staff at Ozark has come up with a list of some of our customer's  favorite destinations. Check out some of our favorite destinations with brief descriptions and additional resource information.
Climbing
Sam's Throne:
Located in Northwest Arkansas near Mt Judea, Sam's Throne is a traditional and top rope climbing area good for all ability levels (5.6- 5.12d). There is also a lot of bouldering. It is located in the Ozark mountains about three hours north of Little Rock. There is a guide-book available (Arkansas Rock Vol. 1 by Clay Frisbie).

Directions: Take Hwy 7 North to 123, on 123 go approximately nine and a half miles past the town of Lurton, and Sam's Throne will be on the left.
Mount Magazine:
Mount Magazine is an Arkansas State Park with a great range of climbing (5.5- 5.12c). Traditional and sport climbing as well as rappeling is allowed in a designated area on the mountain's south bluff overlooking the Petit Jean River Valley. Climbers are required to register at the state park visitor center. Mount Magazine is the highest point in the state and has over 100 established routes with the added advantages of camp sites, mountain biking and hiking trails, as well as hang gliding. As of now the guide-book is out of print, but we have heard that Clay Frisbie will have Arkansas Rock Vol. 2 out next year (2009) with Mount Magazine included in that book.

Directions: Take Hwy 10 West to Havanna and go North on 304. Mount Magazine is just south of Paris.
Horseshoe Canyon Ranch:
Horseshoe Canyon is a private dude ranch with at least 250 routes. Mainly a sport crag, but the ranch still has many trad routes along with a plethora of boulder problems. Like most of the crags in Arkansas, the ranch has a vast range of difficulty (5.5 – 5.14). There is a small fee for climbing and camping ($5 a piece). There are also cabins available for rent. https://horseshoecanyonduderanch.com
Directions: take Hwy 7 north out of Russellville to Jasper. Take a left (west) on Hwy 74 and go approximately 7 miles. Horseshoe Canyon Ranch will be on your left.
Little Rock Climbing Center:
The LRCC is a great way the get into climbing or to keep in shape when the weather will not allow you to get outside. They have routes and boulder problems for all abilities. Located on Colonel Glenn Road just west of I-430. www.littlerockclimbingcenter.com
---
Backpacking/Hiking/Camping
Ouachita Trail:
The trail runs from Pinnacle Mountain State Park outside of Little Rock to Talihina, Oklahoma for 223 miles. For wonderful hikes near Little Rock catch the OT as it crosses HWY 9. This hike travels through Hilary Hollow. If hikers want to hit a spur trail they can leave the OT and hike the Lake Sylvia loop and climb Chinquapin Mountain. For more hikes close to Little Rock come in and talk to our staff. For detailed information about the Ouachita trail, refer to Tim Ernst Ouachita Trail Guide. Ozark Highlands Trail Association www.hikearkansas.com
Buffalo River Trail:
This trail weaves along the bluffs and hollows of the Buffalo National River. If you want to see the tallest waterfall between the east coast and the Rockies hike the Compton Loop to Hemmed-In- Hollow. Take HWY 43 to Compton and follow the signs and dirt road to the trail head. This 7.2 mile trail takes you to Hemmed-In-Hollow Falls, the Buffalo River, Granny Henderson's cabin, and along Sneeds Creek back to the trailhead. This trail has substantial elevation gain and is quite rugged. Prepare for a long day if taking this route. For more hiking adventures along the river come to our store and speak to our staff. We have maps and books to help you find your special wild space. For detailed information about the Buffalo River Trails refer to Tim Ernst Buffalo River Hiking Trails book or Arkansas Hiking Trails book.
Tim Ernst
www.cloudland.net
Petit Jean State Park
www.petitjeanstatepark.com Mount
Nebo State Park
www.arkansasstateparks.com/mountnebo/
Woolly Hollow State Park www.arkansasstateparks.com/woollyhollow/
Devils Den State Park
www.arkansasstateparks.com/devilsden/
Arkansas State Park web-site park finder www.arkansasstateparks.com/park-finder/
Backpacking/Hiking/Camping - Beyond Arkansas
Appalachian Trail:
The Appalachian National Scenic Trail is a 2,180-mile footpath along ridgecrests and across the major valleys of the Appalachian Mountains from Katahdin in Maine to Springer Mountain in northern Georgia.
AppalachianTrail.com offers extensive information relating to the longest hiking-only trail in the world. Thousands of AT trail hikers have shared their advice, photos and stories for others.
You can check it out here: AppalachianTrail.com
---
Snow Skiing
Ozark has been outfitting skiers for over 25 years. The destinations below are perennially our customer's favorite yearly snow ski destinations. The big news for the 2008-09 ski season is Taos Ski area in New Mexico has opened their terrain to snowboarders. So if you have a family of skiers and snowboarders, Taos is now able to cater to your family ski and snowboard needs. There are other great ski destinations in Canada and the eastern U.S.
Colorado
http://www.onthesnow.com/colorado/skireport.html http://www.coloradoski.com/
Utah
http://www.onthesnow.com/utah/skireport.html
http://www.skiutah.com/
Canoeing/Kayaking
Arkansas has some of the best variety of rivers, streams, and creeks to satisfy all categories of paddlers from the lazy, slow moving class 1 waters of the middle to lower Buffalo River to the wild rides of Class 5 water like the Cossatot River or Richland Creek. Keep in mind however that the more exciting whitewater runs are not dam controlled so we rely totally on adequate rainfall for the more difficult waters. If whitewater is not your thing then you might turn your attention to the Arkansas River (if the flow is low enough) or to a calm tributary like the Little Maumelle or Big Maumelle River. These are both within 20 minutes of Little Rock and offer great opportunities for fitness paddling or a Sunday afternoon outing with Mother Nature. These rivers can be paddled year round with no concern for low water. Here are some general information web-sites about paddling in Arkansas
Arkansas Canoe Club
http://www.arkansascanoeclub.com/
State of Arkansas Outdoor adventure guide
http://www.arkansas.com/outdoors/Canoeing-Rafting-kayaking/
Arkansas River and Stream Levels/Info from the USGS
http://ar.waterdata.usgs.gov/nwis/current?type=flow&group_key=basin_cd&search_site_no_station
Buffalo River:
The Buffalo National River flows from its source near Fallsville to it's confluence with the White River 153 miles downstream. The entire river is completely free flowing with no dams. Being free flowing the Buffalo relies entirely on rainwater for optimum floating conditions. The river ranges in difficulty from class 4/5 whitewater on the uppermost sections to gentle class 1 for the majority of the middle to lower sections. The river is generally broken down into 3 sections: upper, middle and lower sections.
Upper:
The upper section of the Buffalo is commonly referred to from Boxley/Ponca to around Hasty or Mt. Hersey. This section of river is located in the northwest part of the state, south of Harrison and near Jasper on scenic Highway 7. This section of river is extremely dependent on rainfall for optimum paddling conditions and at low levels is not advised. Probably the most common section is from Ponca to Kyles landing to Pruitt. This section has up to class 2/3 rapids. The upper Buffalo has some of the most stunning scenery on the river and in the state. There are several outfitters in this area to take care of your paddling needs. Below are a few of the outfitters for the upper Buffalo River. Buffalo Outdoor Center, Ponca www.buffaloriver.com
Lost Valley Canoe & Lodging, Ponca
www.lostvalleycanoe.com
Gordon Motel & Canoe Rental, Jasper
www.gordonmotel.com
Middle:
The Middle Section covers the area around Woolum to Gilbert. This section of the Buffalo, below the Baker's Ford put-in, is generally floatable year round regardless of rainfall. This section is characterized by class 1 to low class 2 rapids with beautiful scenery. This section of river is located just north of Marshall on Highway 65 about 1 hour 45 minutes north of Little Rock. Some of the outfitters for this section are listed below. Buffalo Camping & Canoeing, Gilbert, AR
www.gilbertstore.com
Buffalo River Outfitters Hwy 65 Silverhill
www.buffaloriveroutfitters.com
Silver Hill Canoe Rental - Hwy 65 Silverhill
www.silverhill65.com
Lower:
The Lower Section covers the area around Maumee/Buffalo Point to the confluence with the White River at Buffalo City. Once again this section is floatable year round regardless of rainfall. This section in mostly all class 1 rapids with longer pools and good scenery. This section of river is located off of Highway 14 north of Marshall. Some of the outfitters for this section are listed below.
Dirst Canoe Rental & Log Cabins, Hwy 14 south, Yellville
www.dirstcanoes.com
Wild Bill's Outfitters 23 Hwy, 268 east #1
www.ozark-float.com
Big Piney Creek:
This ten-mile stretch begins at Helton's Farm and concludes at the Long Pool Campground. It is rated a class 2-3 for beginner or intermediate paddlers. There is gorgeous scenery along this 4-5 hour float.
Directions:
Go North on Hwy 7 from Russellville, turn left on Hwy164 and follow the signs to Long Pool. http://www.mooreoutdoors.com/
Illinois Bayou:
Willow jungles and wildlife surround this 8-mile stretch of water. The creek is ideal for beginner to intermediate paddlers and can be paddled in about four hours.
Directions:
Take I-40 to Atkins and go North on Hwy 105 out of Atkins to Hector; from Hector take 27 North to the Hector Bridge. http://www.mooreoutdoors.com/
Mulberry River:
The Mulberry River is a classic Ozark float for the beginner to intermediate paddler. There are numerous willow jungles and nice rapids all along the upper stretches of the Mulberry River from about Wolf Pen to Hwy 23 (Turner Bend).
Directions: Take I-40 to the second Ozark exit, go North on 23 to National Forest Road 1003 which will be on your right. The following websites are for the 2 main outfitters that service the Mulberry River.
Turner Bend
http://www.turnerbend.com/
Byrd's Adventure Center
http://www.byrdsadventurecenter.com/
Little Maumelle:
Little Maumelle is a tributary on the Arkansas River that joins the river just west of I-430. This river flows past Pinnacle Mountain on the southwest side and can be accessed in the park at the west summit trail parking. This section is full of cypress trees. About ¼ - ½ mile below (east) of the mountain the river narrows significantly and at low water levels is best waded to navigate the cypress jungle. At high levels this section probably should be avoided unless you are experienced. After this narrow section the river opens up with beautiful cypress trees and huge lily pads. The float from Pinnacle Mountain to the semi-private boat ramp on pinnacle valley road is about 3-4 miles and can be paddled easily in 2-3 hours. It is not a bad idea to carry a compass or GPS because in a couple are areas the cypress trees are very thick and a clear channel is not obvious. Navigate to the semi-private ramp going from west to east is fairly easy if you stay on the north side of the river and maintain an easterly direction. There are about 4 public boat ramps and 1 semi-private boat ramps that can be used for canoe or kayak launching. The 4 public ramps are at the west summit parking lot for Pinnacle Mountain State Park, river valley marina off of county farm road, a canoe/kayak put-in in Two Rivers Park at the end of county farm road, and at the Coast Guard station under the I-430 Bridge at the bottom of River Mountain Road. The 1 semi-private ramp is west off of Pinnacle Valley road just north of the railroad tracks about ¾ mile north of Cantrell road. This ramp requires a $5.00 payment to use. This is a great river to flat-water paddle. There is usually an abundance of wildlife and the fishing can be great as well. Watch out for water moccasins and there are documented reports of 2 alligators living in this river. There are no services for this river but Pinnacle Mountain State Park sponsors some floats.
Big Maumelle:
Big Maumelle is a tributary of the Arkansas River that joins the river at Maumelle Park. This river is what was dammed up to create Lake Maumelle. There are 2 Main ramps for access to this river at Pinnacle Mountain State Park visitor center and at Maumelle Park. Both are accessed off of Pinnacle Valley Road. This river is similar to the Little Maumelle with the cypress trees but not nearly as abundant and few if any lily pads. This is also a great flat-water paddle with very little current. There are no services for this river.